When we at Jewellers Vault get asked if we can restore an old ring, it is usually because deep, lifelong memories are to be preserved, not just the ring to be restored!
The first two questions you might be asking yourself are:
Where can I get a Jewellery Restoration done near me?
Is there a place that does Jewellery Restoration near me?
To both questions Jewellers Vault can say: YES, we are right here in Capalaba!
Jewellers Vault Capalaba restores old Ring –
…and now let us tell this wonderful story of restoring an old ring so full of family memories we're sure your heart will melt, just like ours did as this ring was being restored!
Take a Ring bursting at the seams with Memories  and Family History …
Oh the stories this ring could tell…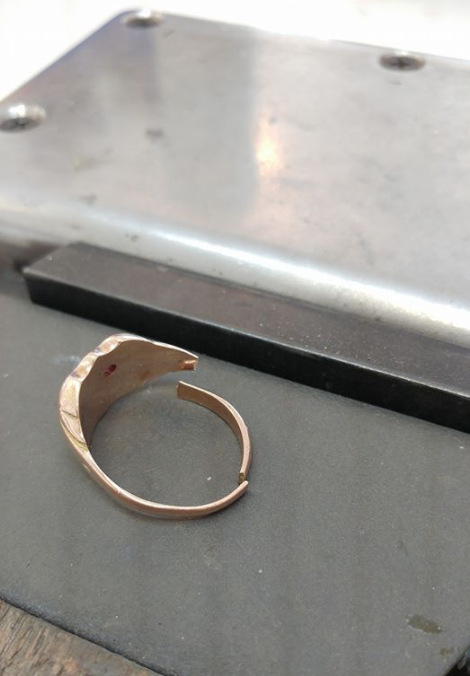 As a newly married couple this Family Heirloom was gifted from the Wife to her Husband for his 21st Birthday. Not surprisingly the Ring never came off his finger. Who doesn't love something their Brand New Wife personally selected for them!
54 years of Marriage and 6 Children later, the Ring is looking a little worse for wear. A little beaten up around the edges, most of the Engraving has worn away, the band is very thin and so fragile that it snaps when the Hospital Staff have to remove the ring.
After the passing of a loved one, we remember all kinds of beautiful moments, often looking at a piece of Jewellery they wore everyday evokes strong emotions and memories. When we attach so much to a simple Ring, it is very important that, when we decide to have it restored and want to hand it down, we choose someone who cares as much as we do. Jewellers Vault understands what Jewellery means. It's not just a piece of Gold to us, it has a story, memories and emotion. I cannot thank my beautiful Clients enough for allowing me an insight into their Family through their Jewellery.
Old becomes New…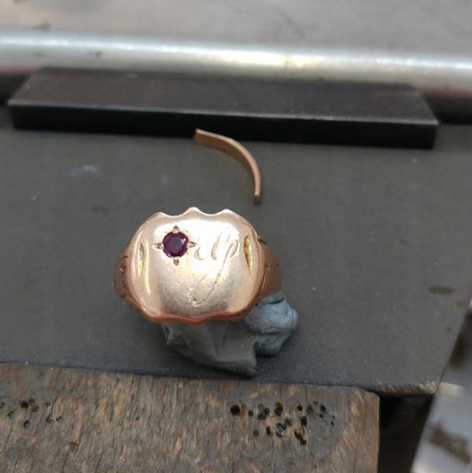 Ready to start a new life with the next Generation, ready for another Lifetime of Memories and Adventure!
What a Difference:
As you can see, the shank was broken in two places.
A very delicate piece and the Jeweller needs to be mindful and caring to restore such an old ring full of memories for the family
Not only was it a delicate old ring but you see here it's got engraving and a beautiful little stone
Look at the beautifully restored shank of this old ring, done by Jewellers Vault in Capalaba:
Beautifully Restored old Ring, with the stone in place and engraved – ready to be worn by the next generation of this family – truly a family heirloom  – get your Jewellery restored in Capalaba, Jewellers Vault is easy to reach, call now 3172 1146